| Item ID | Starting Bid | Bids | Current Bid |
| --- | --- | --- | --- |
| 90194 | $320.00 | 5 | $360.00 |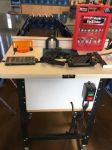 ROUTER TABLE PACKAGE:
Bosch 1617EVS Router with plunge and fixed base
This combines the 1617EVS motor with a plunge base and fixed base to handle a wide range of routing applications!
Features:
Microfine bit depth adjustment and quick clamp system that allows motor to be moved from base to base with ease
Plunge base has countoured soft grip handles for enhanced control and comfort at all plunge depths
Versatile fixed base can be used above or under the router table
Wide openings in bases and sub-bases allow use of larger bits and provide better visibility
Precision centering design makes it easy to keep bit on intended cut line when using jigs, templates, dovetail fixtures and similar guidance devices
Variable speed dial for matching speed to workpiece and task
Constant Response Circuitry maintains constant speed under load and provides overload protection
Right or left switch and cord location
Double insulated
With soft start to reduce start-up torque
Rockler Router table, fence and stand
High Pressure Laminate Router Table is 1-1/8'' thick MDF, surfaced with white HPL for good visibility and durability.
Features:
3/8'' thick phenolic router plate offers good flatness, rigidity and low-friction sliding
Steel stand has adjustable feet for stability on uneven floors, and pre-drilled holes for adding a shelf and sides
8-point plate leveling system with two locking points
24'' x 32'' table for over five square feet of surface area
Dual track in table combines standard miter track with universal accessory track, which accepts 5/16'' T-bolts or 1/4'' hex bolts for custom made jigs and featherboards
Extruded aluminum fence backer provides a stiff, straight reference surface when routing
Fence backer features top-mounted universal T-track that accepts 5/16'' T-bolts, 1/4'' T-bolts, and 1/4'' hex bolts
Opening in fence is easily adjustable to accommodate large router bits
Ergonomic T-knobs for easy fence adjustment
Includes bit safety guard for safe routing
Rockler dust bucket dust collection kit for router table
Includes everything you need to capture dust from two key areas on your routing table; Router Table Dust Bucket, Router Table Dual Dust Port and 2-1/2'' x 36'' clear Dust Hose.
Rockler Router Table Accessory Kit
Includes an easy-mount dust port, plus three featherboards for more consistent cut quality and to help prevent kickback. Two of the featherboards mount to the fence, exerting pressure down toward the table, while the third mounts to the table and keeps your work against the fence.
Rockler Casters
The levers lock out both the rolling action and the swiveling action, creating a rigid, stable work surface anywhere in your shop. Ball bearing urethane wheels.
Brass Set-up Gauges
Machined solid brass setup bars allow you to accurately set depth of cut, fence to cutter distance, material thickness and more without using calipers or tape measure.
Features:
Accurately machined to within .005"
Set includes six 2-1/2" long bars measuring 1/8", 3/16", 1/4", 5/16", 3/8" and 1/2" square
Comes in protective plastic storage case
Depth Gauge
Metal rule depth gauge helps set the height of router bits and saw blades with greater accuracy.Features:
Self-standing for setting cutter depth on router tables and low profile for backfence adjustment
Horizontal and vertical measuring
With 2-3/8" wide aperture, accurate to 1/32"
Measurement range is 3-1/8"
Steel rule has dual metric and imperial scale
With unique cam lever lock
Hickory 24 piece carbide master set router bits